3-21-08
Updated the merch page with some items from Troniks and Freak Animal. Spend $50 or more and take 5% off.
7-21-06
Some may have noticed that I've had the merch page up and running with a PayPal cart for some time now. There's a small selection of distro items there now. It will be updated soon with more from a few other labels.
Also, I'd like to point out that the only official online presences for Human is Filth are this website and myspace.com/humanisfilth. There a a number of websites with 'humanisfilth' as the registered user, those accounts are all under the control of an imposter. Humanisfilth.com is also not in my possession.
10-29-05
Ok, so the shopping cart isn't done yet but I have update the Human is Filth info page and the pictures page with some new stuff. More to come as time allows. You can check out the Human is Filth Myspace page for some audio samples and reviews I've written.
9-08-05
The site seems to be alright in terms of the transition so now comes the time to update and make improvements. One of the first things will be the addition of a merch page with quality releases from other labels. Mark Solotroff put a link on the Bloodlust! site, listing Ul Ni Industries as a distributor of select titles. If you followed the link here, come back soon and I'll have all the merch up with a shopping cart in place as soon as I can get to it. If you have any questions or comments, email me at tom[at]ulniindustries[dot]com
08-23-05
I'm changing hosting companies so the site may be a little buggy for a short time. After all the kinks are worked out, I plan to make some improvements and content updates.
05-23-04
Things are moving slowly.
I've updated the site some. Links have been cleansed. Audio is gone for now. The pictures page has been overhauled, check it out for the most recent live pictures.
Death to False Power Noise is nearing completion. Keep yourselves occupied for now with with my new C-30, "Moxie". Two 15 minute free-form harsh tracks. $5 ppd in North America. Email humanisfilth[@]yahoo[.]com
11-24-03
The Nerve Center is no more. I'm now in charge of The Stress Factor.
The Lockweld split and Death to False Power Noise CDs are still in the works, nothing ever goes as smoothly as planned.
06-14-03
The Recycled cassette is sold out, buy it from RRR. The "Fresh Meat for the Masses" CD-R is temporarily sold out. "Harsh Action Enlightenment" is sold out for good. My new CD-R, "Human is Filth Destroys Emil Beaulieau" is now out on RRR, I've got copies for $8 post-paid in North America / $10 post-paid World.
humanisfilth[@]yahoo[.]com - remove the obvious.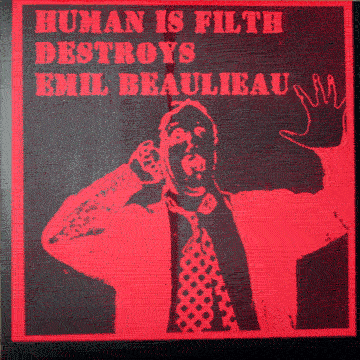 I've got a radio show on WJUL in Lowell this summer called The Nerve Center on Thursdays from 9 PM to Midnight, check it out if you can.
05-15-03
Tonight Emil Beaulieau and I will be performing on Sine Qua Noise on WMBR 88.1 FM. Sine Qua Noise is on from 10 pm to midnight, I don't know what time we will be performing.
Monday the 19th I will be performing at the Berwick with Rotten Piece, Karlheinz, Emil Beaulieau, Immaculate:Grotesque, and Gold. I believe the show starts at 8 pm and costs $8.
02-11-03
Pictures from the big harsh noise and power electronics show at the Berwick Research Institute are here. It was a great show, we're not likely to have another one nearly as good in quite awhile.
01-13-03

12-29-02
Picture from a couple shows:
RRR 11-10-02
RRR 12-15-02
10-29-02
I've got a bunch of stuff for sale on ebay, check it out here.
This is great, check this out.
10-04-02
I have pictures from the Sudden Infant shows at the Evos Art Center in Lowell and Munchhouse in Providence now posted.